Forster Chase Ventures is an extension of Forster Chase Corporate Finance and works with start-ups and early stage businesses to turbo charge their growth through strategic advice, capital and people.
We work closely with business owners who have successfully and courageously set up their own company to identify growth solutions and chart a map of success with them, going into great detail about the goals of the business and starting with the end in mind. To assist you in your journey, we will bring the expertise, contacts, funding and key people talent to provide all the growth solutions you could need. We can be involved right at the beginning from start-up structuring to ultimate sale of the business, including (but not limited to):
Our Ventures business is enhanced by the other businesses within the Forster Chase group – Forster Chase Executive Search, Forster Chase Corporate Finance and Forster Chase Interim. We are an agile, entrepreneurial, creative and results-focussed group of businesses that is backed and led by genuine industry leaders. Through our Search and Corporate Finance divisions we can provide access to the best people in the market, to sources of capital, to other companies for partnerships and/or distribution plus a whole host more besides.
We have been through the start-up and high-growth phase ourselves and taken many clients through it and are therefore mindful of cashflow constraints in the early phase. We have developed an exclusive club approach with this in mind whereby we work with a select number of early stage ventures and provide the ongoing advisory service as a collective while giving access to capital and people. This helps keep the costs down to a minimum. We have also come to agreement with many companies to work with an equity reward instead of, or in lieu of, cash. This ensures we are continually invested in the business from early stage to sale under one group.
OUR ETHOS
From our own experience, we believe that success in business requires three things: the right strategy, capital and talent. As such we have put together an all-encompassing one-stop shop where businesses can be nurtured and fostered towards full maturity.
The type of businesses we would be keen to work with are similar to ours – agile, entrepreneurial and with a management team that is open to strategic advice from experienced industry C level executives and non-executives.
We also tend to work with capital intensive businesses within the Financial Services and Tech industries, particularly Insuretech, Fintech, Medtech and SAAS.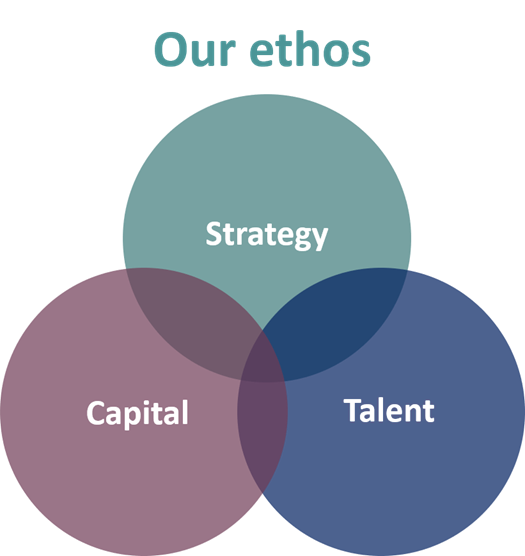 We believe we offer an unrivalled service because of both our extensive network and reach as well as our in-depth specialisms combined with decades of experience. Choosing Forster Chase as your business start-up partner means you can be assured that you will have the best talent available working on your behalf every time. We work across the UK, Europe, Asia and Australasia.