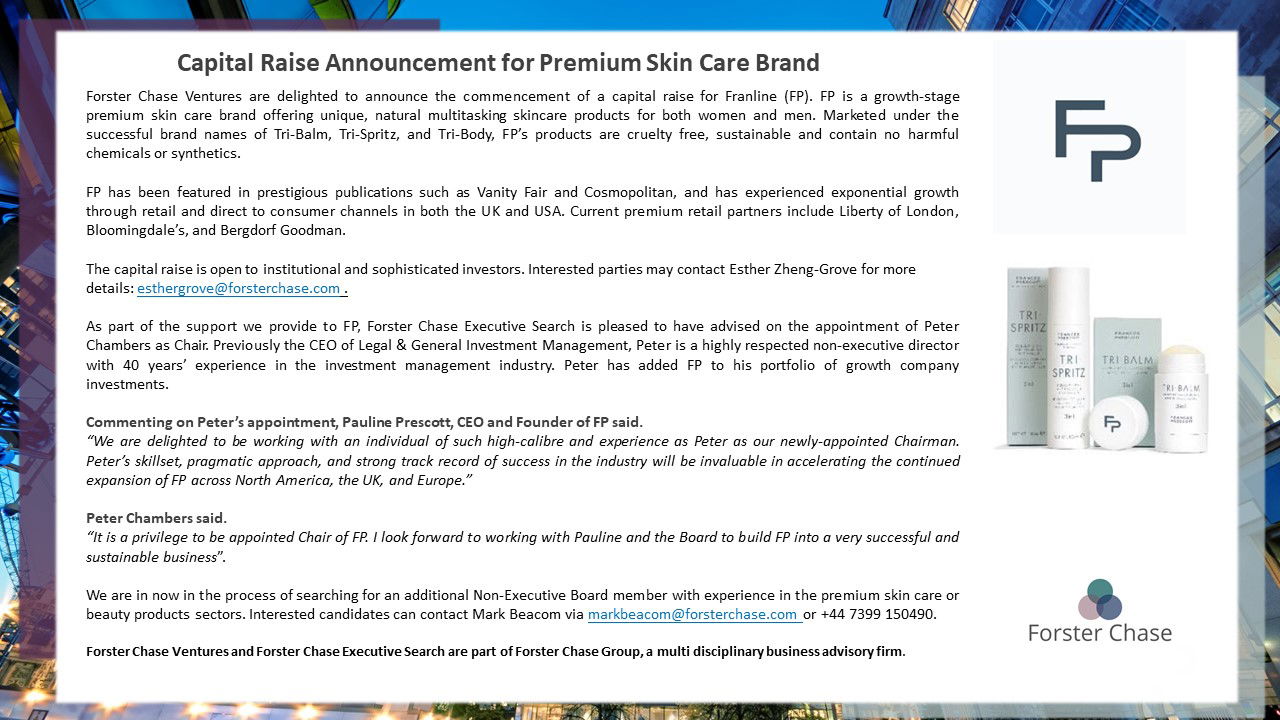 Capital Raise Announcement for Premium Skin Care Brand
28.09.2021
Forster Chase Ventures are delighted to announce the commencement of a capital raise for Franline (FP). FP is a growth-stage premium skin care brand offering unique, natural multitasking skincare products for both women and men.
Marketed under the successful brand names of Tri-Balm, Tri-Spritz, and Tri-Body, FP's products are cruelty free, sustainable and contain no harmful chemicals or synthetics. FP has been featured in prestigious publications such as Vanity Fair and Cosmopolitan, and has experienced exponential growth through retail and direct to consumer channels in both the UK and USA.
Current premium retail partners include Liberty of London, Bloomingdale's, and Bergdorf Goodman. The capital raise is open to institutional and sophisticated investors. Interested parties may contact Esther Zheng-Grove for more details: esthergrove@forsterchase.com.
As part of the support we provide to FP, Forster Chase Executive Search is pleased to have advised on the appointment of Peter Chambers as Chair. Previously the CEO of Legal & General Investment Management, Peter is a highly respected non-executive director with 40 years' experience in the investment management industry. Peter has added FP to his portfolio of growth company investments.
Commenting on Peter's appointment, Pauline Prescott, CEO and Founder of FP said. "We are delighted to be working with an individual of such high-calibre and experience as Peter as our newly-appointed Chairman. Peter's skillset, pragmatic approach, and strong track record of success in the industry will be invaluable in accelerating the continued expansion of FP across North America, the UK, and Europe."
Peter Chambers said. "It is a privilege to be appointed Chair of FP. I look forward to working with Pauline and the Board to build FP into a very successful and sustainable business". We are in now in the process of searching for an additional Non-Executive Board member with experience in the premium skin care or beauty products sectors.
Interested candidates can contact Mark Beacom via markbeacom@forsterchase.com or +44 7399 150490.
Forster Chase Ventures and Forster Chase Executive Search are part of Forster Chase Group, a multi disciplinary business advisory firm.